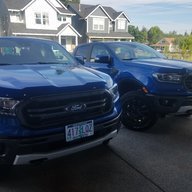 First Name

Matt
Joined

Jun 4, 2019
Messages
Reaction score

111
Location
Vehicle(s)

'96 5.0 Ranger '14 fusion '19 Lariat Ranger
Took my '19 Lariat to the dealer yesterday for a radio problem, the SXM will not select. My service advisor called me and said I should come in this morning for a loaner car He said getting the parts might take a few days AND there's a recall regarding the tail lights. When I got there they had a 2020 XLT ready for me and the service guy told me it could be a month or more until I can get my truck back because the tail light fix was on back order! I told him that's ridiculous and I'd bring it back when they had the part.
Nope, he said, can't let you have your truck until it's fixed as we'd be liable if the brake lights went out and there was an accident.
Really???
Now to be sure, I'm glad they didn't give me some little shitbox for a loaner, but I am paying for a loaded Lariat with Navi and leather and I'm in a pretty basic XLT. No garage door opener and no window sticker that opens the gate at work. So do I have a complaint there? This IS an inconvenience. Maybe Ford owes me some cash for my troubles. Not sure if I should just say OK and be quiet or make a stink. What do you all think?
You might check local laws but i believe it's unlawful for them to not allow you to take your vehicle. Another option is calling Ford Motor Companies customer service and asking what they can do for the fact that you're making a payment on a truck this month that you can't drive.