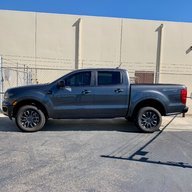 First Name

Jason
Joined

Sep 5, 2019
Messages
Reaction score

747
Location
Vehicle(s)

2019 Ford Ranger XLT Sport 4X4
You'll note I never said anything about towing. Using the age logic, a truck from the 1950's isn't a truck either because they can't two 10,000 pounds either. That's honestly an ignorant analogy that makes no sense at all.

The Ridgeline is a Ute...same as the iterations of the exact same nature sold elsewhere in the world and classified appropriately as such. Since it's the topic, a 2011 Ranger still had body-on-frame construction, a spare tire that didn't require you to empty the bed in order to gain access to it (which for anyone that's actually hauling/towing with the vehicle is a profoundly stupid design flaw) and a real 4WD system available, not just an AWD system which IS NOT the same thing. Hell, there's no such thing as a RWD Ridgeline in the first place.

I'm not saying it's not a perfectly fine vehicle for people that are looking for a car with a large bed that rides unlike a real pickup so they can pickup larger things from Home Depot from time to time. But calling it a pickup truck is merely a marketing campaigning and likely some lobbying of government agencies that succeeded in convincing Americans that it isn't Ute...which it is.