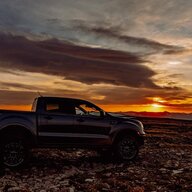 First Name

Chris
Joined

Mar 15, 2020
Messages
Reaction score

1,551
Location
Vehicle(s)

2019 Ford Ranger, 1983 Datsun 280ZX 2+2 Turbo
Occupation

Ford Dealership Mechanic
Nope. Proportion of oxygen (barring local variation) is the same at sea level as at the top of the mountain--about 20%. It's just that at sea level it's about 14psi and at 10k feet it's at 10psi.


You have the same volume of air, but since it's at a lower pressure you have fewer molecules of air, including fewer molecules of O2.
Hence why I said you have less oxygen.... Why do you have less oxygen? Simply put it isnt as dense. Now does this mean you can run a lower octane? NOPE!! ONLY USE THE MINIMUM THAT THE VEHICLE MANFACTURER WILL ALLOW AS A MINIMUM!!! IF STATED BY MANUFACTURER THEN A HIGHER OCTANE WILL BE BENEFICIAL TO THE VEHICLE OF IF A TYNE IS INSTALLED!!!