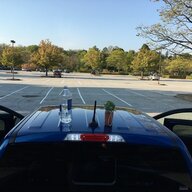 First Name

MARC
Joined

Apr 29, 2019
Messages
Reaction score

1,211
Location
Vehicle(s)

FORD RANGER LARIAT 2019
Occupation

TEACHER
Vehicle Showcase
So I have this weird observation. As I've mentioned I'm a first time truck owner. Having a new shiny Ranger I park in the back of parking lots well away from other cars. Plus I don't mind getting a little extra walking in. Over the last few months I have noticed something interesting. People driving other trucks just love parking right next to mine no matter how many spots are free on each side of my truck.

This came to mind again this morning. I went to the grocery store early this morning and parked in the back of the lot that was mostly empty. I was in the store maybe 5 minutes just to get some milk and cereal. I come out and there is a Ram 2500 parked right next to me even though there were still many empty spaces on each side.

As stated I've observed this many times to the point it seems not to be a coincidence. What's up with that? Is it some kind of weird kind of flex? Like, "Hey buddy check out my badass truck." I've owned many cars, not trucks, and also parked them well away from other cars in the back of the lot. But have rarely come back to see someone parked right next to me when there were several more spaces available.

Maybe it is a regional thing? Is it a truck thing, like trucks park right next to trucks no matter what? Or maybe it is my Ranger is so awesome it has some subconscious effect on other truck owners that draw them to my truck?

Still when it happens I end up doing a walk around to see if they door dinged me.

Anyway, just a weird and kind of funny observation for a weekend conversation.
When I notice a cool truck in a parking lot somewhere, I park near it, not necessarily next to it, just to have a look coming and going (without appearing to look). I'm just curious about what other drivers are running, for future reference or just for fun. So maybe the truck owners parking next to you guys are just wondering, not necessarily "flexing"!