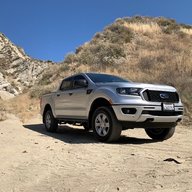 First Name

Scott K
Joined

Apr 19, 2020
Messages
Reaction score

788
Location
Vehicle(s)

2019 Ranger XLT Super Crew
Occupation

Aerospace Machinist/CNC Programmer - Retired
I've driven it about 25 miles, some interstate and some in town and I can't be clear of a difference, I say that because I want to think something's there but not sure there is any difference. I was running 93 since I purchased the truck so I did miss the possible octane boost. Honestly for over $800 (installed) I would have thought I would say oh ya that's better but just not the case
It may be difficult to "feel" a subtle difference on a tune as mild as this one. I noticed a bit of difference....I think. But the dyno says 42 hp and 22 lb/ft of torque increase at the wheels. The dyno is telling the story. The lack of more torque increase was a bit disappointing but the torque curve is far better running the tune.
The torque is what you feel and I don't think most people are going to feel the difference between 282 lb/ft and 304 lb/ft of torque.
I am currently running the Livernois 91/93 Performance Tune but have not done the dyno pulls yet. I am expecting similar horsepower numbers but much better torque numbers. From what I have seen I can expect 350+ lb/ft of torque at the wheels.