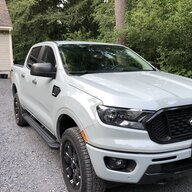 First Name

James
Joined

Sep 6, 2019
Threads
Messages
Reaction score

232
Location
Vehicle(s)

2019 Ford Ranger 4x4 Lariat Supercab & 2019 Volvo XC60
Occupation

Pharmaceutical Digital IT
Vehicle Showcase
Around here the 2019s are at least $4k off, and there is a lot of 2019 inventory still on the lot. I find it hard to believe they aren't going to slashing those prices once the 2020s start rolling in, because who wants to pay about the same when they added so many little things to the 2020s?

As far as used prices, I think ironically part of that is people willing to pay a premium for the last generation propping up the prices. Around here a 2012 with 60k+ is worth about the same as a reasonable mileage 2016, and just a bit less than a low mileage 2017. I suspect that won't continue as the supply of 2016+ trade-ins increases. Resale value is a gamble, not a guaranteed return.
Strictly anecdotal, but a local northern end of SoCal dealer, who sells a lot of trucks, says the Ranger is not moving well. he thinks folks prefer the Government Motors offerings. I'm wondering if it's the lack of a V6. I could live with the four, but I hate that small gas tank, and will keep saying so until or unless Ford does something about it on the next version.

In the mean time, my 14 year old Tundra is as reliable as time itself, owes me nothing, and other than the entertainment system, gives almost nothing away to the new Ranger. C'mon Ford, I don't need three million tons of towing power, I just need your $40k truck to offer something better than my old workhorse. Even though the Toyo only gets 17.5 mpg, its massive tank means it will still out range the Ranger.
That is weird. It is hard to even find a used Tacoma here and prices are way high because of it. They will barely budge on price of a new one either. Our Ford dealer has no Tacomas.

I think that will change when Toyota opens the new plant in December flooding the market with Tacos.
Demand dropped for the first time in a while in Sept for the Taco. It will hurt the resale value for sure when they start producing more.
I see two here.... I can tell you the orginal owner of the black one got near $6K off sticker, and it's a TRD OR 4x4 not an SR5 - bet you can grab it for $30-$31K too
As for the Tundra, I had a 2003 SR5 Tundra 4x4 V8 8ft bed and I can tell you this Ford Ranger beats it in everyway, and I loved that Tundra, the Tacoma not as much. In fact spec wise the 2.3L Turbo matches/beats the V8 in the Tundra

https://www.quirk-ford.com/used/Toyota/2018-Toyota-Tacoma-21ebb8a70a0d04fe7d281e81480e0b3a.htm
https://www.quirkford.com/inventory...oad-4x4-4wd-crew-cab-pickup-3tmdz5bn7jm036506