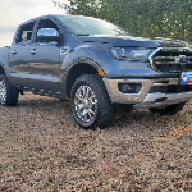 Joined

Sep 4, 2019
Messages
Reaction score

25
Location
Vehicle(s)

2019 Ranger supercrew FX4, Lariat 501A and chrome package
Not sure if anyone else has posted this about the OEM muffler.

I got my muffler replaced with an aftermarket straight through one. I kept the old muffler. Looking down in it with a flashlight confirmed my suspicions. Yes, the one inch opening is there. BUT, before that for maybe four to six inches the pipe is perforated.

Just thought I'd mention that since I see people posting about how the OEM muffler is a bottleneck because of that one inch opening.

The muffler is of course still restrictive just not as much as I was led to believe. With that said, I could tell an immediate improvement in acceleration with this new muffler. The muffler is a cheaper Raptor brand I got at a local exhaust place. It's a straight through though design. I kept everything else stock. It's maybe ~15 percent louder but not bad at all. I got on the 85mph speed limit tollway before and after installation just to set the cruise and compare for drone inside the cabin. I didn't notice any drone at all. I could hear the exhaust. But the wind noise drowned it out pretty well.
Last edited: