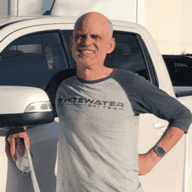 First Name

Miles
Joined

Sep 17, 2020
Messages
Reaction score

114
Location
Vehicle(s)

Ford Ranger Lariat FX4 2020
Occupation

Software
Had the truck for a week with less than 1k kms and my neighbor dropped a scaffolding panel he was loading into his truck on to the hood.
Normally I'd freak but I managed to take it in stride. (It's a truck!) I do plan to sell it in next few years though so I want to keep it close to factory condition.
But now we have to repair the thing. Aluminum hood and white platinum paint doesn't make it any easier.
I also thought they should just be able to pull the dent out no problem but apparently aluminum doesn't have the memory and even though there is no crease I guess they can't avoid drilling.
And as you can see there is a very small hairline crack in paint. They say they need to paint hood and blend fenders to match factory, though the existing paint is factory perfect, I would almost think they should be able to get factory paint code for VIN and just spray the immediate area.
Body shop says $1,500 (CAD). Which insurance company will pay under comprehensive, but will go after our neighbor. I'd really hate the guy to be $1,500 out of pocket for a minor random f'up. And it seems like such a waste of time and money for something so small!
Does anyone think it would be worth looking at PDR for given paint crack and AL hood? Or even try to deal with DIY? Small town and we don't have PDR people here, I'd have to drive a few hours to get to a place that could take a proper look.