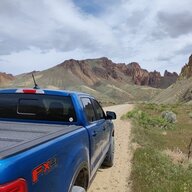 First Name

Kimball
Joined

Mar 31, 2020
Messages
Reaction score

169
Location
Website
Vehicle(s)

2019 Ranger Lariat FX4
I've been looking for some good way to tell just how much of a difference a suspension upgrade will make, and all the reviews I've run across are so... subjective... it's really hard to tell.

I have a 2019 Lariat FX4, and I will take this off road up into the mountains to do some hiking/backpacking/camping, as well as just to go play on the offroad trails available in my area. I find the on-road ride to be fine, if a little stiff in the rear, but there is quite a bit of wallowing. For example, when I pull out of my driveway at an angle over the curb, the truck will rock back and forth 3-4 times before finally settling down. I'd like a ride that feels a little more planted, but don't really want to break the bank to get it.

So, will it make much difference if I only swap out the factory FX4 rear shocks for the stage 2 Fox shocks available at Level 3? I see they are on sale right now, so I'd pull the trigger if I could be convinced that it will help settle down the body roll a bit.

If it matters, I'd also like to get a 2.5" RC leveling kit for the front, but have hesitated to do so if I really need to replace shocks in rear and coilovers in the front to get a better ride.

I'm not a crazy offroader and I'm not looking to build a massive overlander. I don't necessarily want bigger tires or wheels... just a less wobbly and stiff ride that will still perform well off road.

Happy to hear opinions - especially if you have only swapped out the rear shocks.

Thanks!