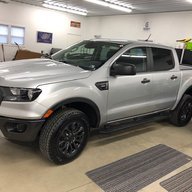 First Name

Tim
Joined

Dec 1, 2019
Threads
Messages
Reaction score

70
Location
Vehicle(s)

2019 XLT Sport, 2021 Lariat FX4
Haven't checked in here in a couple of weeks and now see a bunch of threads discussing what I believe to be the same defect in various forms. "Bucking" is a good word to describe what my 2019 Ranger started to do a couple of months ago, or maybe longer than that. It started out barely noticeable and grew steadily worse until I wasn't sure I should be driving it.

I own a small HVAC business and buy a couple of trucks each year- vans and pick-ups. Our local dealer has a commercial Fleet sales department which is very friendly to me. After I threatened to not buy any more Fords, the commercial sales manager got involved. Two weeks later (this Wednesday), I get a call telling me that they now have four Rangers doing the same thing and they are not sure what to do to fix the problem. This not a large dealership. No codes are displayed and no TSBs fix it. Their lead tech is experimenting with the transmission software parameters to try to resolve the problem.

Here is how I can show the problem: drive 30-50 MPH on a smooth level road. Set the cruise or hold the accelerator in a neutral position to try to maintain a steady speed. Truck starts to buck very noticeably every time.

Please post up the fix if anyone's dealer has figured this out. Doesn't sound like Ford is ready to admit there is a problem or knows how to fix this. Hopefully it will be simple to correct.