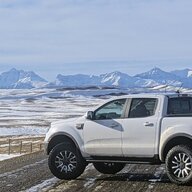 First Name

Steve
Joined

Aug 14, 2020
Messages
Reaction score

215
Location
Vehicle(s)

2020 Ford Ranger
Still on the dealer's lot, waiting for PDI and PPF and stuff. I'm working 9 hours away from home, and it's killing me! Can't wait to get home and finally drive the beast!
I've been spending far too much time on this forum, and have picked up some ideas for making it mine. I thought I'd start a thread to record the progress, mainly for me to track the history. But y'all are welcome to check it out as I go! Here's my current To-do and Wish List, in no particular order:
Parts Installed
- American Soft Tonneau Cover - installed
- Bushwacker Rocker Panel Covers - installed
- FORScan cable - love it!
- Husky Mud Flaps - installed
- Bluetooth OBDII scanner - installed
- LED puddle lights - installed
- Center console tray - installed
- Husky Floor Mats - installed
- Rough Country Bed Mat - installed
- Under hood light - installed
- LED bed lights - to be installed
Parts Ordered
- Eibach coilovers and rear shocks - ordered
- 275/70 R18 Falken Wildpeaks - received
Parts to Order
- Trailer Brake Controller
- Running boards? Rock sliders? (I drive on a lot of gravel/muddy roads)
- Catch Can - decided against this
- Tailgate assist (hee hee!)
- Tailgate Seal
- Tailgate and Grill Letters
- Smoke Side Markers
- Aeroskin Hood Protector?
- Putco Grille Insert
Tasks
- Install wheel spacers
- Move wheelwell crash bars forward
- Install struts and rear shocks
- Mods to Ford Ovals, fender emblems
- Paint crossbar on front grille
- Forscan mods - See Post #3
- Auto window for passenger side
Completed Tasks
- Install tonneau cover (what a pain that was!) - done
- Debadge and desticker - done
- Remove rear headrests and stash behind seat - done
- Tow strap and jumper cables - done
- Measure fenders for baseline measurements for lift - done, see post #2
- Install mud flaps and rocker covers - done, see post #4
I'm thinking of whiting out the fender vents and possibly part of the grill - sort of reverse-murder the trim. We shall see...
I'm sure there's more (it's pretty well never-ending, isn't it!), and I'll add as I go. I'll reserve the next several spots so it'll be mostly together at the beginning...
Last edited: