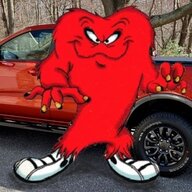 First Name

Scott
Joined

Nov 8, 2019
Messages
Reaction score

774
Location
Vehicle(s)

'19 Ranger Lariat FX4, '11 GMC Acadia, '03 HD VRod
Occupation

Free the Dampers Activist
Vehicle Showcase
Hey all, wanted to offer my insight and experience over the last 6 weeks with my AWE 0FG Exhaust. For full transparency, I do want it to be clear that this was installed on my Ranger at no cost for letting them borrow it for a week to install a system, test and create the marketing materials. I thought it was a unique opportunity, so I did take advantage of it knowing the reputation of AWE. Of course seeing the pics and videos of my Ranger on the
AWE
and
Stage3
sites is pretty cool as well.
When I picked it up, obviously the first and most visible impact was the Diamond Black tips… pretty sweet looking and they definitely make a statement. I did end up rotating the forward clamp to the inside between the 2, it stood out a bit too much for my liking, minor issue. Very easy to clean and maintain.
Obviously, the next thing I did was start it and rev the #@&! out of it. I was surprised at how throaty it was especially for a 4, was a bit nervous going in that it would sound too much like an import or Gymkata Focus. It does not, it has its own distinctive sound which has caused my gas mileage over these last few weeks to drop off a bit because I am having more "fun" driving it. To the point where my wife and daughter just role their eyes… which makes it even more enjoyable!! Must also admit that it does turn heads when you get on the gas as the sound is deeper than I expected and spot on for what I was looking for from stock, yet not overpowering at speed.
Start up audio:
One of their Marketing items is the "Drone-canceling" 180 Technology. I had not thought much about the drone of the exhaust while driving at normal speeds, so I really did not take it too seriously. To be quite honest, I did not fully understand what the "drone" was, just figured this was normal. I will say it works and works well.
So well
that it now feels like I am driving much slower than I actually am. I
MAY
(not an admission of guilt!) have found myself several times now at speeds well over 80 without noticing it. I have been amazed at the difference and impact it has on the drive quality and makes the B&O Sound System even better. The video (link below) of their test drive where they run it at 70 is very accurate. I look forward to our lives getting back to normal so that I can enjoy this even more.
One feature that I did not expect, and think is pretty useful to any who off-road is their "BashGuard" tip. This allows us to remove the lower end of the exhaust from the tips to just over the axle (pic below) and to add on the guard tip to protect the system. I added a screenshot from their off-road video where this was necessary. They clearly had some fun with it… very jealous.
BashGuard set up at work:




Stock exhaust
(still surprised at how large the stock muffler is… I feel like I lost my Ranger love handles):
AWE Installed
(now
sexy
and
lean
):
Weight Comparison
: Stock Ranger Exhaust is 34lbs vs AWE 0FG Exhaust at 23lbs
Overall Impression:
Honestly -
may the Sox, Pats, Bruins & Celtics never win another championship if I am misleading any
- I am thoroughly impressed and happy with the build quality, sound and look of the system. That it only cost me a week with the truck makes this even better. To add to the experience, the team at AWE have been wonderful to work with. After talking with many of them and touring their facility, it is clear that they take great care and pride in their products which makes my recommending their exhaust solutions even easier. I guess the best thing I could say is that if I were in the market for a new exhaust, I would eagerly purchase the AWE system.
If anyone has any questions or would like more details of my experience or thoughts, please send me a note. Even willing to take you on a virtual drive-along if needed! Appreciate your taking the time to read this!
Scott
Last edited: