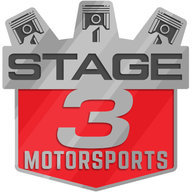 First Name

Frank
Joined

Jun 19, 2019
Messages
Reaction score

413
Location
Vehicle(s)

2019 Ford Ranger 4x4 XLT CrewCab
Occupation

Sales Specialist
Back in Stock @ Stage 3
2019-2021 Ford Ranger Ford Performance Power Pack Calibration M-9603-REB
Highlights:
Includes Power Pak Calibration, ProCal4 Delivery Tool & K&N Filter
Adds Ford-rated impressive power and torque gains
91 Octane or higher premium fuel is required
Perform data logging, diagnostics & service functions
Provides cleaner & more efficient airflow
Power Pack Calibration for HP & Torque Gains
The 2019-2021 Ford Ranger can generate a pretty impressive amount of power for a mid-size truck. However, leaving your truck calibrated at stock wastes so much untapped potential. The Ford Performance Power Pack Calibration provides your 2019-2021 Ranger's 2.3L EcoBoost with impressive power gains, optimized shift schedule and drastically improved drive-ability. With Ford Performance engineering and through dyno-testing, the Ranger will operate so much better throughout the RPM range. Ford Performance engineers perform rigorous tests to push the calibrated Ranger to its limits. This calibration is intended for use with premium fuel, 91 octane gasoline or higher. With this new tuning, Ford's rated power numbers are a HP gain of
45 HP at 4,500 RPM
and a torque gain of
60 lbs/ft at 2,500 RPM
. With the gains, your truck's durability will not be compromised.
Allows for Data Logging w/ Additional ProCal 4 Calibration Delivery Tool
This kit also includes the Ford Performance ProCal 4 Calibration Delivery Tool as a diagnostic and data logging tool. This lets you download up-to-date future calibrations from Ford. Just plug the tool's cable into your OBDII port and you're ready to swap out your tunes. You can use the high resolution touch screen and graphical interface to read and clear DTCs, correct speedometer for gear/tire changes, check real-time data and to log data. You can evaluate your air/fuel ratio, spark timing, cam timing and throttle angle. Valuable service functions can also be performed like a key on/engine off test, key on/engine running test, profile relearning, clear adaptive fuel trims, and a clear keep alive memory. This device does not include performance calibration.
Includes K&N Air Filter for Cleaner Air & Better Airflow
The K&N High-Flow Replacement Filter comes ready for a speedy installation and uses a quality layered, oiled cotton media. Due to the design and engineering of this air filter, you will notice better airflow contaminants will be captured inside the media. Its signature high-flow technology helps your truck breath a lot easier than the majority of disposable air filters which you need to regularly replace. You'll love the cleaner air!
Fitment:
2019-2021 Ford Ranger
C.A.R.B. Note:
This calibration kit is 50 state legal and has a C.A.R.B. EO# of D-752-12.
Fuel Note:
Ford recommends you use premium fuel, 91 octane or higher, with this tuner.