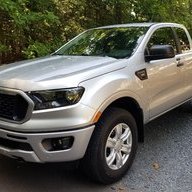 First Name

Mark
Joined

Mar 9, 2019
Messages
Reaction score

173
Location
Vehicle(s)

2019 Ranger XLT supercab ,2013 Ford Fusion Hybrid
Occupation

Custom Home Builder
I decided to test what I already knew to be true, that modern engines with modern oils can go much longer between oil changes than engines of the past.

Many on this site and on most other forums still claim the Ford recommended 10K oil change interval is foolish. Being a hardcore gearhead and a former Ford mechanic, I know that oil technology and engine technology has made great strides in the last few decades, and I feel the 3-5K mile oil changes are a waste of money and an environmental irresponsibility in my view.

The tolerances of todays engines and the great efforts made in friction reduction, emission and fuel controls have payed great dividends in oil life. I've noticed that the oil in my modern Ford's is cleaner at 10,000 miles than the oil was in my 70's and 80's Fords at 1000 miles.

As the oil analysis report shows, everything is A-okay after a 9800 mile oil change interval. The report says that potassium is higher than would be expected, which could indicate coolant consumption (or nothing at all). I'll go with "nothing at all" at this point, given I haven't added an ounce of coolant in to 40,000 miles I've driven the truck and it still indicated full.

Let the flaming commence.